One of my new year goal is to finish more UFOS from my previous projects. I will choose four UFOs to finish within this month. My January to-do-list is :- 1) Finish the quilt top for my Easy Street Mystery Quilt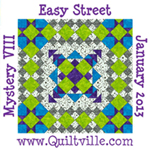 2) Finish quilting my granny square quilt.
3) I started a GFG quilt 1+ year ago. I wanted to finish it by this year. I'm going to make 5 flowers or more per month to complete it by end of the year. 4) Fusion blanket CAL. I had make 36 patches so far. The complete blanket need 80 patches. I plan to make 4 or more patches per month.
That's what I'm planning to do this month. I will linking this to